I had heard of Lisa's Radial Café on multiple occasions in the past and due to some other lunch plans falling through this week, I was able to visit there instead. My wife and I made the trip over to 817 N 40th St. Omaha, NE 68131 in search of pancakes. Well, I was in search of pancakes. I've been on a pancake kick recently so breakfast food was in my sights.
We find the café easily as it is a very familiar area; my wife used to live up on 48th & Cuming when we were dating. The location is just south of 40th & Cuming in a neighborhood area. Neighborhood establishments are often places that are really good spots because they don't always depend on being in a high traffic to get people in the doors. The service, food, and atmosphere are things that they have focused on for success. They hone their craft and have a particular set of skills. Kinda like Liam Niesen, but not. When you walk through the doors of a place like this it is likely going to be different than going to chain and I'm sure that the café has their share of regulars.
Now, what'll it be? The host was nice and patient. Key ingredients in having a positive experience for an indecisive guy like myself. I'm one of those people that sometimes plays it safe with familiar menu items. Ooh, that looks good and that looks good, but let me go ahead and get the item that I'm comfortable with and have eaten 1,000 times. On this day, I stayed in my comfort zone, but I did teeter on the wild side by getting a different variation. I ordered a skillet, but instead of going with my normal option of an ultimate, I ordered a Pork Carnitas, Skillet. It came with toast and since I wanted a pancake I ordered that as an extra.
My wife also ordered a skillet and I believe that our total came up to $25 and some change before tip. That isn't bad considering I ordered an additional side item. I did wonder why it was $2.99 for a pancake though. The host informed us that it would be about a 20-25 minute wait for our order. We decided to get it to go because I'm still not fully comfortable dining out. If there is a handful of people in a place, I'm likely to just get it to go. 20-25 minutes was fine and we decided to wait outside. The bench was a bit cold so we went to sit in the car.
I went back in to check on our order and the host let me know that it would be about 5-10 more minutes as we were 3 tickets back. When I went back in a recognized an ex coworker who has her own business and has participated in one my community events that I coordinate under Small Guy Promotions. We sat and talked as she waited for her group to show. It was her first visit as well and during our conversation she shared one of the greatest concepts that I've ever heard. She mentioned that she had already had breakfast and the said, "I told myself that there's nothing wrong with 2 breakfasts!" You're a mother forkin (my daughter proofs my reviews and watches The Good Place) GENIUS! I can get down with that. LOL
Here's the homerun for me with the service. Once our order came out the host set it on a table, opened each container and confirmed the orders were correct. My man! Since we've been getting to-go orders, we have been burned on multiple occasions of having missing food and we hadn't realized until we got home. Our fault for not checking. The fact that he did this shows a level of care that I certainly appreciated. He also made sure to ask what condiments I needed as he loaded the bag. Kudos to that gentleman.
Let's talk about the food. Remember that $2.99 pancake that I talked about earlier? Well, upon further review, I see why it is that price. This thing was huge! It literally took up the whole width of the container. I almost always save the pancake for last so we'll touch on that a bit more soon.
The Pork Carnitas Skillet came with huge chunks of carnita meat, mushrooms, jalapeno's, onions, tomatoes and cheese. As I noted, it comes with your choice of toast as a side and then eggs with hash browns. I went with the raisin bread because…raisin bread. I'm a fan of the portion size. This was definitely Omaha Fattie approved. Everything had a really good flavor and did not lack seasoning. I've had a couple of instances recently where potatoes didn't taste like anything was added so this was a good point. The meat was tender and gave me a different flavor then I'm used to when eating this type of meal. This is something that I would order again.
I was already filled, but being the Fattie that I am I had to give the pancake a go. It really was a big pancake and I knew the chances of me finishing it were slim. The butter was in the container with the pancake so when I went to open it the melted butter goodness drizzled onto the cakes. I opened up a syrup and took a bite. Oh yeah, I'm so down. It was still warm after the drive and so soft and smooth. This was a wonderful cap on the meal and I did have to tap out which was good with me because I had a nice little leftover for breakfast.
My only knocks are things that are very unsubstantial. The toast was a little overcooked and my carnita chunks were sizeable. The one thing that we didn't get was plastic ware so I didn't have a knife. We probably could have found one, but I was too hungry to worry about it. I would have liked to cut it up to have a bite of meat in almost every bite. Let me be clear, there was not a lack of meat at all. It was plenty and I was full. I hope to visit again and maybe even dine in…
I give Lisa's Radial Café 5 Fatties! Have you been? If so, what do you think?
Thank you so much for taking the time to read my thoughts on food. You are amazing!
Please Share With Your Friends!
Lisa's Radial Cafe
Lisa's Radial Cafe
Lisa's Radial Cafe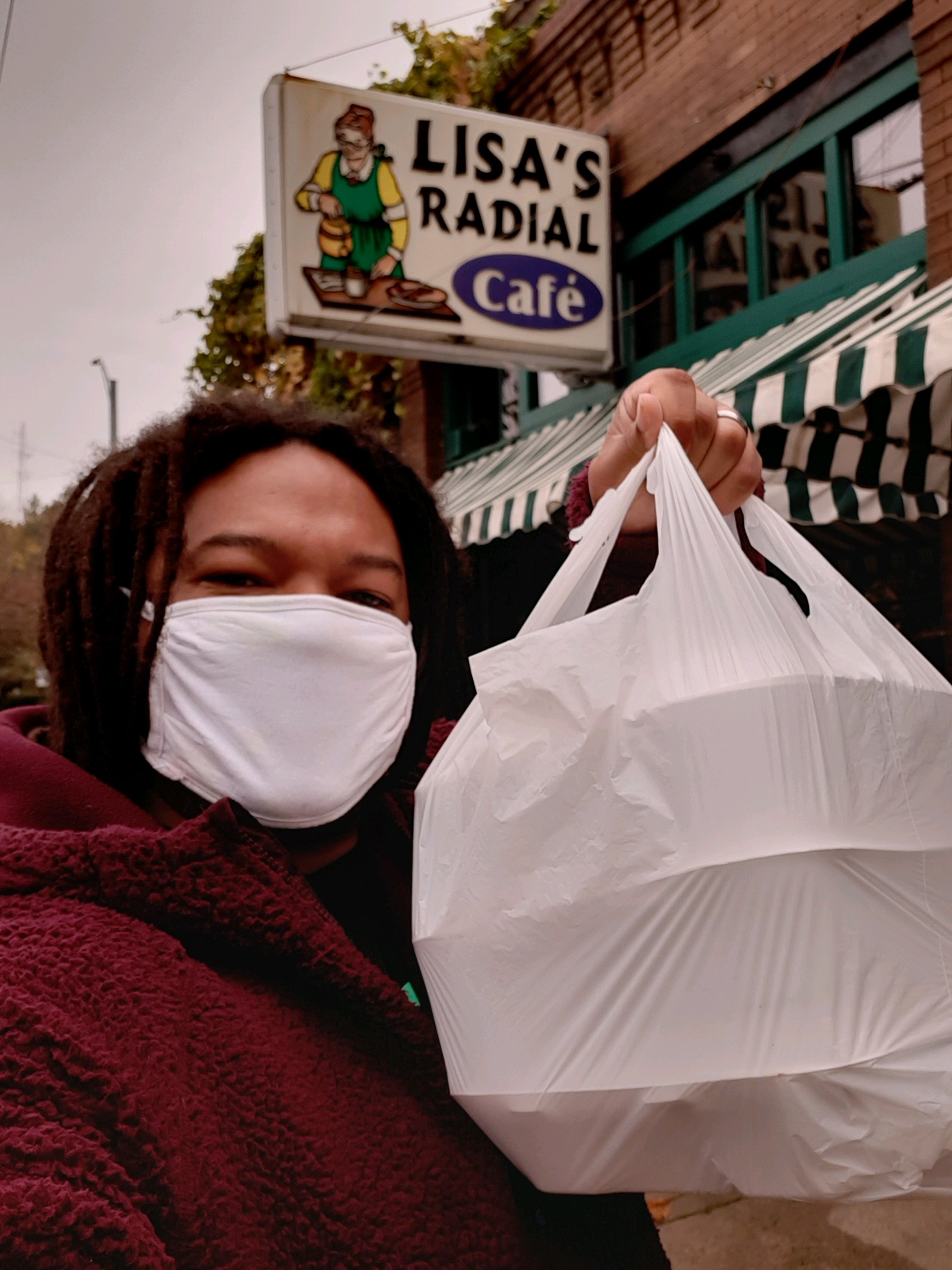 Lisa's Radial Cafe
Lisa's Radial Cafe
Please Share With Your Friends!