Mixins, Mixins, Mixins, you are on my mind. I can't stop thinking about the first time we met. Your creamy rolled ice cream has me under some type of spell and I find myself yearning for more.
If that sounded like the start of a love note, it is because it was love at first bite! This past weekend I took my daughters out for a night on the town that ended with us getting a sweet treat from Mixins located at 1405 Jackson St. in downtown Omaha. The cool "new" spot has been on my list of places to try, but I just had not made a pointed effort to get down there. I say "new" because as I look at their Facebook page I see that they recently celebrated 2 years of being open. That isn't that new, but new enough.
As I said, it had been on my list. It was especially on my list because I had initially met co-owner Vandra a few years back when she was a video journalist for a local news outlet. She was covering a story during the holidays when a shop that I was helping do social media for was donating food to a local community organization. I was on tv because of her and we exchanged information afterwards because I was looking for coverage of some of the community events that I coordinate.
Back to the topic at hand! We got to the shop shortly before their 10pm closing time on a Saturday night. It was a perfect evening in terms of the weather and there was a decently sized crown when we entered. We were greeted fairly soon after walking through the door, but we needed a few moments to soak in the wall of flavor choices. There were many really good sounding options and I had to huddle with a tired and almost cranky pants 9 year old that was told she would have to share with someone. That wasn't the issue. The issue was settling on what to order.
After some deliberation it was decided that we would go with the Berry Fruity (Vanilla Roll Mixin: Pineapple – Strawberry, Blueberry, Pineapple, Whipped Cream and Strawberry Sauce). My difficult ice cream eating partner didn't want pineapple or blueberries even though she likes blueberries…"she doesn't like them all the time" or something like that. Blah, Blah, Blah! My older daughter had an easier task of deciding once I told her that I would be the one to share with the 9 year old. Her choice was the Strawberry Cheesecake (Vanilla Rolls Mixin: Graham Cracker & Strawberry – Cheesecake Bites, Graham Cracker, Pocky Sticks, Whipped Cream and Strawberry Sauce).
If you haven't been to a rolled ice cream shop before, it is a little different than your regular ice cream experience. You get to sit and watch the roll the ice, add the toppings and make a beautiful final product. Seriously, these cups of rolled ice cream are a sight to be seen. The photos don't do the real thing justice.
Once we got our orders we stepped outside and took our masks off to dig in. My daughters each tried the first bites and they liked it. I was next and I too liked what I was tasting. In the past I've mentioned that it would be hard for an ice cream place to not receive good feedback, but this ice cream shop takes the cake! I'm not sure what it is that is different about the rolled sweetness that they are serving, but it is really creamy and smooth. The fresh fruit in our dish was a nice accompanying flavor and texture component that made it pop. My oldest let me try a bite of her Strawberry Cheesecake and it was at the same level or even better.
While we were in the car my oldest daughter said that she gave it 10 out of 10. I know that she was passionate about it because I didn't even ask her. It was clear that we were all in agreement that we instantly became fans of this shop. It was so good that I'm sure I will be making another appearance there in the fairly near future. They have a good thing going.
The cost of each dish was $7. There are pros and cons to this pricing setup. I like that it made it an easy decision without having to put a lot of thought into sizes, but at the same time I would have liked to have a small/kid option. Totally not a deal breaker. I think the cost is in line with what you will see at specialty ice cream shops. With tip we walked away at $18 and change.
The overall experience was pretty much as good as it gets. We didn't have a long wait, the young ladies were courteous & helpful, and we got a wonderful treat to end our day. I highly recommend giving Mixins a try if you haven't already. I'm glad that I finally made it down there and it was a pleasure to support another local small business.
I give Mixins 5 Fatties easy! Have you been? If so, what do you think?
Thank you so much for taking the time to read my thoughts on food. You are amazing!
Please Share With Your Friends!
Mixins
Mixins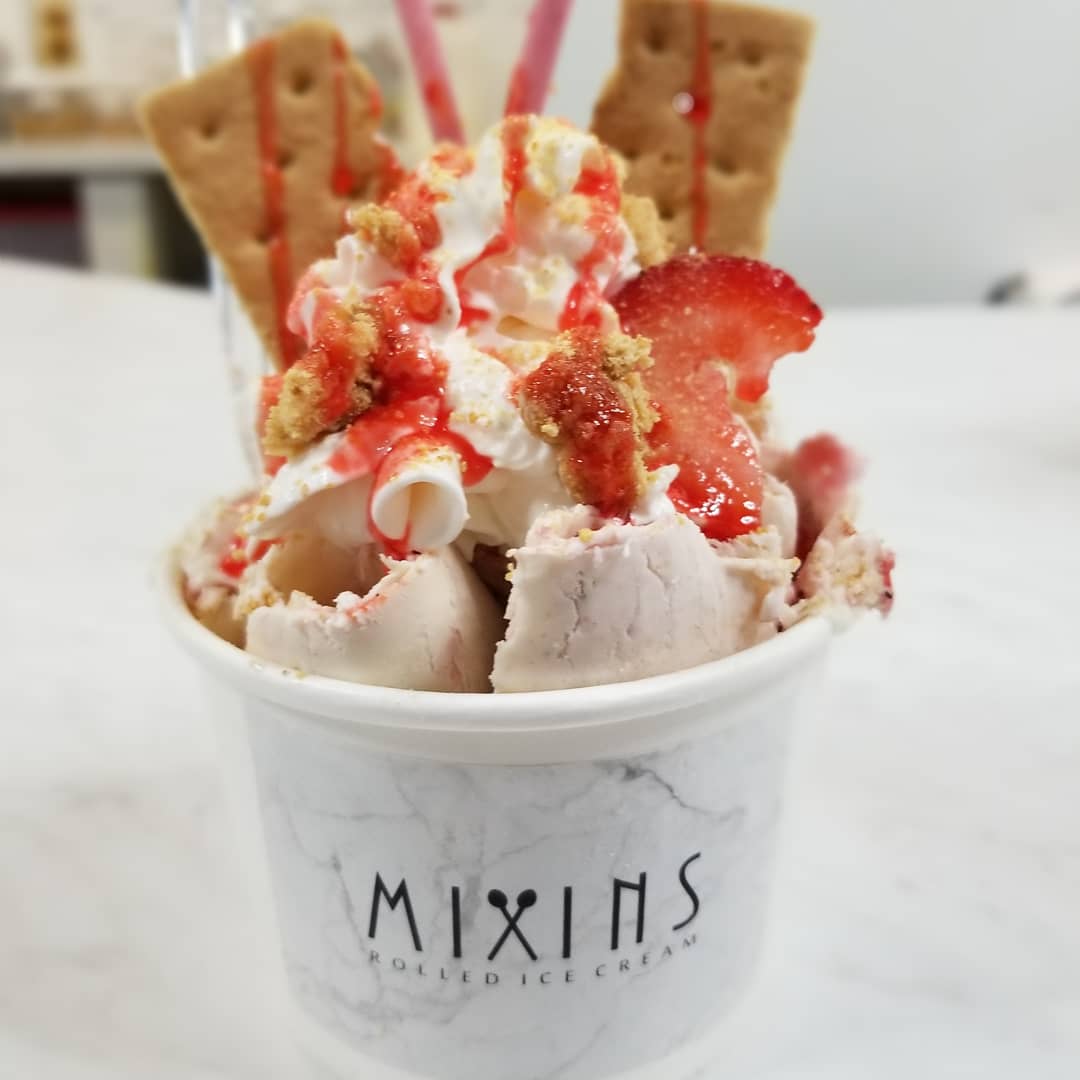 Mixins
Mixins
Mixins
Mixins
Please Share With Your Friends!