Thank you, Freezing Moo (7530 Dodge St)! You capped off a cool weekend with some sweet rolled ice cream. The night before going to Freezing Moo we went to Piezon's Pizzeria and they made a dairy free pizza for my wife which is HUGE! Then we get to go out for ice cream to a place that has plenty of options because they use a coconut milk cream as a base. This made me really happy because pizza and ice cream are some of her favorite things and usually the options are very limited. Even when she can find dairy free ice cream, there is often only one flavor or its sorbet. Bonus points!
If you recall from earlier reviews, I've been invited out to a handful of places recently. I actually wasn't invited to Freezing Moo to do a review, but they asked for a social media post in exchange for ice cream. Um, yes, please! Happy to do it. I'm just throwing the review in as a little icing on the cake. Or in this case, toppings on the ice cream.
Rolled Ice Cream seems to be the thing nowadays and since I hadn't had any previously I was excited to give it a try. I think it is pretty hard for ice cream to be a flop so I was sure that this would go well. At least from the taste perspective. There are a lot of ice cream places around town and now with the addition of rolled ice cream spots there is no shortage of places to give a try. You won't hear any complaints from me or my family.
The cool thing about the rolled ice cream is that you get to watch the process unrolled (unfold, but trying to be funny). Not only that, but they will spell out your name or make a cow on the ice cream after it has been flattened. It is a bit of entertainment to go with your treat. The glass counter front makes it easy for people to see and you can just stand there and watch or record them doing their thang!
How was the ice cream? Good! I went with the Cookie Monster which is Oreo Cookie and chocolate sauce. You get to add up to 3 toppings with your selection. That's pretty sweet! I added Cookie Dough, Crushed Butterfingers and Strawberries. I liked it. The size of the dish was big and I could barely finish. My type of place. The price is comparable to what you will see at other local places. It is affordable if you get one or two orders, but if you are a family of four or more it could get a little pricey. You would be looking at about $30 for 4 people. For my family it is a good outing if we ate at home, but to eat out and then get ice cream it would probably need to be a special occasion. Again, the good thing about the portion size is that you could easily share an order.
The service was good and the employees were really nice. One thing that is also cool about the place is that they have one of the projector games available for kids to play. The projector hangs from the ceiling and casts the images on the floor. Similar to what you find in the aquarium at the Henry Doorly Zoo. They have a wall that people can write on using a sharpie and another wall that is filled with photos of customers. The place was really clean and looked to be well cared for. The feeling that I get is that they really want their customers to have a good time and unique experience when they visit.
As another appealing feature, they do have a Poke restaurant next door with an open walkthrough to access each place. I would go back in the future. I want to try more of the flavors that they have available. I'd say that if you are in the mood for ice cream, head on over to 76th & Dodge St and grab yourself a scoo…roll.
I give Freezing Moo 4 Fatties!
Have you been? If so, what do you think?
Thank you so much for taking the time to read my thoughts on food. You are amazing!
Please Share With Your Friends!
Freezing Moo
Freezing Moo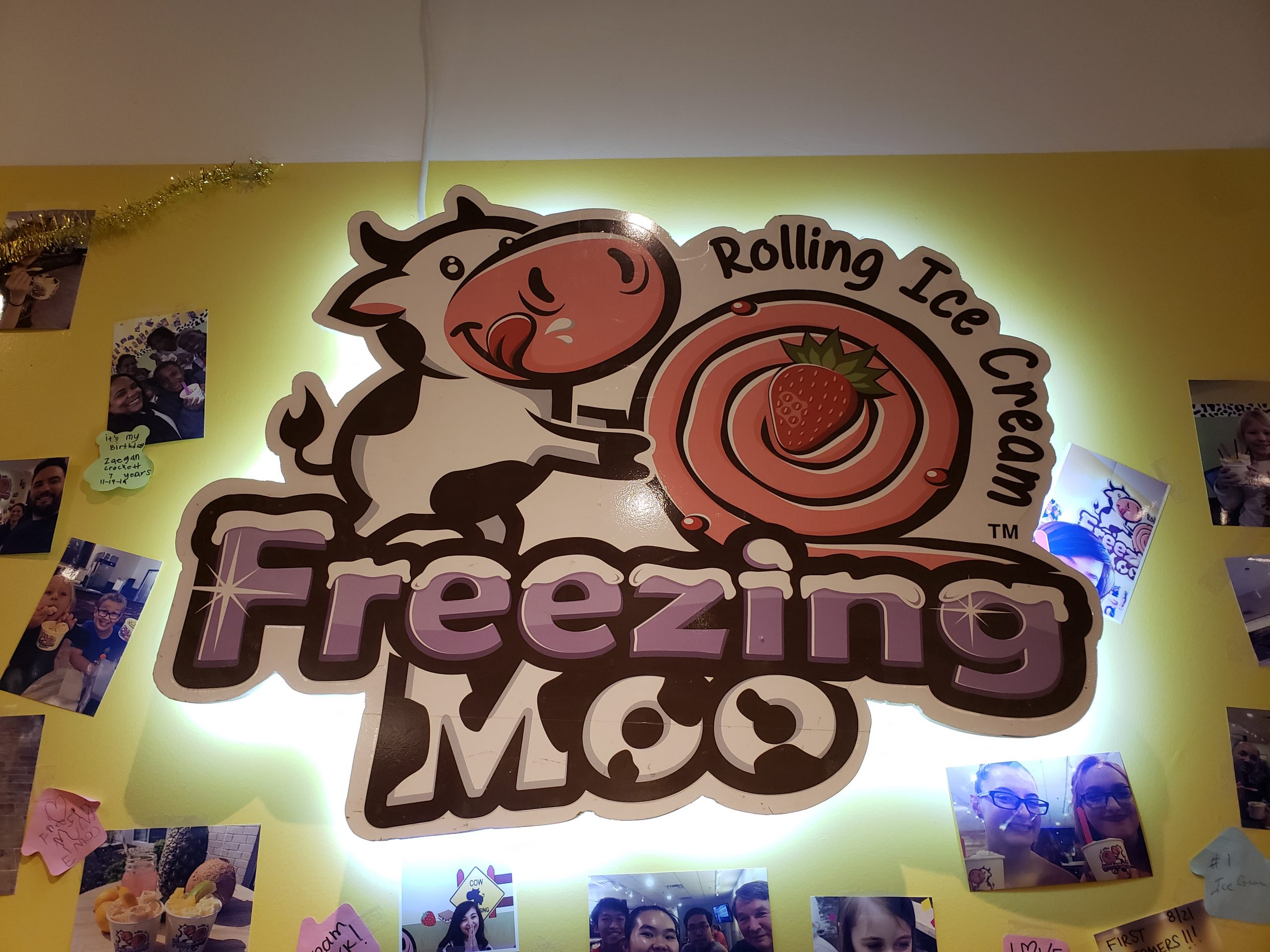 Freezing Moo
Freezing Moo
Freezing Moo
Freezing Moo
Freezing Moo
Freezing Moo
Freezing Moo
Freezing Moo