Hey guys,
I wanted to tell you a little about the dinner that we had last week. At the end of last year Small Guy Promotions won a free appetizer through a Twitter promotion for Cascio's Steakhouse. I am always happy to eat and getting a portion of your meal for free is never a bad thing. I was excited to go back and visit Cascio's because it had been about four years since my wife and I last dined there for a semi-date night. This time we made it our location for a Sunday dinner and we invited my brother-in-law, Nick, to join us.
First off, I want to say thank you to Cascio's for the free appetizer! I informed our waitress of the promotion and she was not aware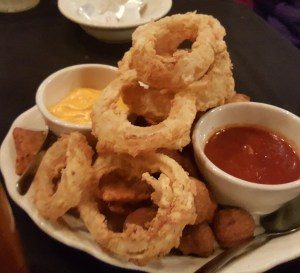 of it, but she said that I could speak with the owner to confirm that I won. The waitress that waited our table was a sweet older women who suggested that we get the sampler (the most expensive item) since the appetizer would be free. The sampler had
onion rings, fried ravioli, fried cauliflower and fried mushrooms served with a small bowl of marinara and a small bowl of melted cheese. That was fine by us! We were happy to dig into the platter when it came to the table, but we made sure not to eat it all because we wanted to leave room for our main dishes.
I couldn't remember the last time that I enjoyed a steak so I set my mind on that option and went with the 7 oz which was more than enough for me. After all, I am trying to drop a few pounds. I placed the order with our waitress and she let us know that it
would be a little wait, but once the soup & salad came things would start rolling. That was definitely the case as dish after dish seemed to fill the table. With my steak came a baked potato, a bowl of pasta, and the previously mentioned soup & salad. My steak was medium well and was cooked perfectly. I always say, "I don't want any moo in my cow!" As if all that and the appetizer wasn't enough, you know they included free breadsticks at the table. There were two baskets and we had plenty for all five of us and still some to take home. We were stuffed by the time we left. Everyone had a box to leave with and lunch for the next day.
My thoughts:
We don't typically eat at steakhouses and the prices on the menu were a little more expensive than places that we usually visit. However, what you get in return is not typical of places that we frequent either and I was completely satisfied with our experience. You get so much food! I like the fact that there are courses to the meal and the atmosphere in the restaurant has a classic/traditional feel that seems to be a lost art in a lot of places nowadays. Most of today's food service seems to be about speed and rushing to get the meal out of the kitchen so this is refreshing. There is a lot of room and it is a perfect location to have a family dinner.
The staff seem to be really nice people! I think a lot of it comes from that traditional steakhouse history. After the meal we stayed and had a good conversation with one of the waitresses and the owner. We found out that there are five employed Cascio's waitresses that came from other local steakhouses, like Piccolo's, that have closed down. I strongly root for this restaurant to stick around and keep that classic atmosphere alive in the Omaha area. These guys are the people that make me want to get out there and spread the word because they are a honest and respectable business. My family and I will return and we will not wait another four years! I hope that you will stop in and give them a try also.
Thank you for your time,
Small Guy Promotions
Please Share With Your Friends!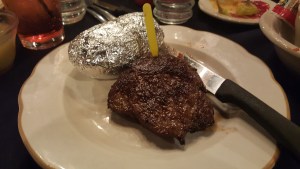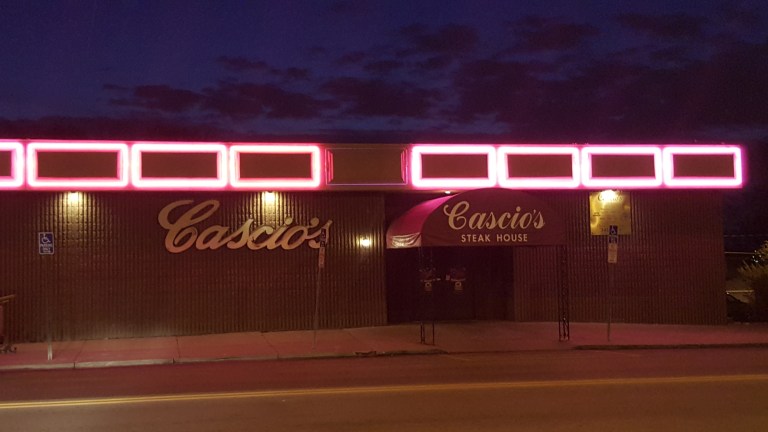 Please Share With Your Friends!