Thai Esarn was the location of our first family dinner where we dined out for at least 6 months. We made the trip All the Way Out to 555 N 155th Plz, Omaha, NE 68154 to have this dinner. If you are not familiar with the location, it is in Pepperwood Plaza just north of Dodge Street. Maybe you remember me writing about the Omaha Tap House a few reviews ago. Well, they are in the same plaza.
Initially, the plan was to write a review after my first visit back in March of 2020. I didn't get to it right away and put it on the back burner, not because of any particular reason. I just procrastinate sometimes and don't get to all the things that I list out for myself. Reviews can take some time to write as I find that I talk a lot (big surprise!) and that comes out in my writing as well. A lot of my writing takes place late at night after everyone has gone to bed. I get into a zone and just go.
Thai Esarn is good. I'm sorry that it took us a year to get back out, but it isn't in the neighborhood and there are so many restaurants to try. I was happy to revisit and get a fresh experience to fuel my review. I didn't forget that they were good, but I don't take notes and writing a review with thoughts from a year ago isn't something that I want to do. Nor do I believe that would be acceptable when providing insight to someone that reads the reviews and has never been to the featured restaurant. That would be a disservice in by book.
Let's dig in!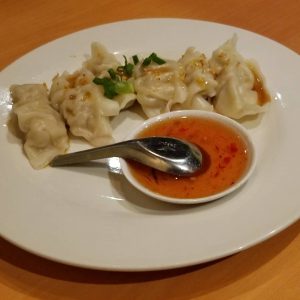 To start we ordered the Fried Dumplings and Fresh Spring Rolls. The restaurant wasn't overly busy; it didn't take too long for our appetizers to come to the table. The dumplings were accompanied by a sweet chili sauce and the spring rolls had a sweet chili sauce with crushed peanuts. It's hard to go wrong when you order dumplings. These were good! A nice brown and crispy outside filled with heaven. I assume heaven is what it was since the ingredients aren't listed on the menu. The spring rolls were fresh and gave a nice crunch when you bite into them. The taste can be a little plain with a spring roll by itself and the sauce completed the experience. A perfect balance.
The main dishes were Popeye Chicken (Breaded chicken and steamed broccoli in peanut sauce) for my oldest daughter, Tofu Soup (Tofu, green onions, peas, carrots, clear noodles in a clear soup) for my youngest daughter, Southern Curry (Potatoes, onions, bell peppers with coconut milk) for my wife and Crispy Chicken (Breaded chicken and steamed broccoli in plum sauce) for myself. Each entrée came with steamed rice. Everything looked amazing when it arrived at the table. We all dug into our own meals initially before sampling around the table into other's orders.
I'll go first. One thing that we sometimes miss with our to-go orders during the pandemic is the food being fresh out the kitchen. I mean, this stuff was steamin'. My chicken was crispy as the name states and it was also delicious! So delicious! This is a bit of a safe play, but I'm okay with that. They executed it well.
Everyone else liked their meals as well. The Popeye Chicken didn't overpower you with the flavor of peanut butter. Sometimes that can be an issue. The curry gives off a few different flavor profiles from the mix of the coconut milk with the peppers and chicken. Everything comes together nicely in this dish and then with the addition of rice it is spot on.
On to the Tofu! My youngest has her own style in life and definitely brings that to the table when it is time to order. I would never see myself ordering a tofu dish, but she was all about it. Tofu doesn't really have a taste. Well, yeah. That is a pretty accurate statement. It takes on whatever taste characteristics of the items that it is served with. She commented about how good it tasted. I agreed that it was good, but the kicker for me was the leftovers. She didn't finish her meal and had plenty to take home. A couple days had gone by and she hadn't eaten it yet, so it was my lunch one day. You know how leftovers sometimes taste better after the food has had a chance to sit and marinate? That is exactly what happened. I was so happy that she couldn't finish the meal and I reaped the benefits. Muhahaha!
The meal was great! It was nice to get out after so many meals at home. The service was excellent. Josh, the frontend manager, came over to check on us and chat a few times. He's a nice guy. When he would circle to the tables of guests, he would explain about the Thai Fortune Rolls that they give at the end of the meals. They are similar to the fortune cookies that you see at Chinese Restaurants, but they are rolls and they get them directly from Thailand. Cool stuff, man.
I give Thai Esarn a solid 4 Fatties. Have you been? If so, what do you think?
Thank you so much for taking the time to read my thoughts on food. You are amazing!
Please Share With Your Friends!
Thai Esarn
Thai Esarn
Thai Esarn
Thai Esarn
Thai Esarn
Thai Esarn
Thai Esarn
Thai Esarn
Thai Esarn
Thai Esarn