BBQ! Yes, that is what is on the menu again. I'm not mad and you wouldn't be either if you were eating BBQ. Well, maybe you would be depending on where you ordered your food from. This review will be focused on visits to Wayne's New Skoo BBQ located at 4865 C St Unit #6, Omaha, NE 68106. This location is not going to blow you away aesthetically, but the food might. I would classify this as more of a dive location, but that isn't a bad thing in my book.
I've known LaWayne, the owner, for some years. It all started back in the day at the Hope Skate in North Omaha where I met the family as our kids used to participate in the Hip Hop class that was taught on Tuesday nights. Jessica, LaWayne's wife, actually used to shop in a shoe store that I used to manage about 18 years ago. I think that is how the conversation started and lead to finding out about LaWayne and cooking.
This was just before LaWayne purchased a mobile trailer that he used to serve out of called Wayne's Mobile Kitchen. He did a Facebook giveaway where the winner would be chosen by being the first to guess the color that he had painted the trailer. One other person and I both correctly guessed the same color at the same time and LaWayne ended up giving us each a $20 certificate.  Being Small Guy Promotions/Omaha Fattie, I try to make sure that if I win something like this from a small business that I make sure to put back into that business. I bought extra food and everything was so good! He would eventually serve food at one of the community events that I coordinate and have everyone talking about his wings.
Now, that you have the back story, how about we fast forward to current day and talk about the BBQ. My family first had it in June of 2019 after one of the events that I coordinate. I had been meaning to get there and kept putting it off until I made the plan ahead of time to go there afterwards. I knew from the jump that I was going to do a review, but I wanted to make a second trip because of what I ordered.
My first trip, I got Brisket Nachos and while they were REALLY good, I didn't feel that it would do a review justice as when I think BBQ I feel that ribs should be involved. I believe my daughter had a Pork Tenderloin sandwich and my wife Pulled Pork. We did get a side order of ribs where each of us could try one, but again, I wanted to have more to tell you all about.
A lot of things don't go as planned when it comes to food reviews. Especially, when we are talking BBQ. BBQ is different from most other foods because of the prep time that is involved to make it happen. As we've talked about in the past, you can't just whip up a plate on the spot. My first attempt was premeditated and we were ready. Saliva glands were fully functional. I walk up to the door and see it say "Closed." This is during pandemic season and the thought crosses my mind that maybe only the dining area was closed because I see a drive up window.
I start to walk up to the window and ring the bell. A guy comes to the window and all of the sudden this overbearingly amazing smell emanates from inside. He says, "Sorry, we're closed" and my heart sinks to my stomach. It wasn't enough to fill me; I was HUNGRY. I say, "Aw man, it smells so good! Okay." I start to turn away and he must have known how bad I wanted a taste. He then said, "Mild or spicy?" I'm like, "mild". Having no idea what was about to happen, he returned with a container of ribs. OH MY GOD!!! This dude just made my day. I ask him how much, but he didn't make me pay. It was like food is my drug of choice and he was the neighborhood dealer giving me a small taste because the product is so good that he knows I'll be back for more.
A week later I go back and this time I was on time. I ordered a family meal that has ribs and a choice of 2 meats and 2 sides. For the additional meats I chose the chicken and brisket, but they were out of chicken so my wife wanted the pulled pork instead. For our sides, I went with the dirty rice and cabbage with bacon. Wanting to get the full experience I also requested the Hot Boy, which is a spicy BBQ sandwich with sausage, pulled pork, and pickles. The gentleman suggested that I make it a meal and I was happy to do so and picked fries as the side.
We get the food home and place the full spread on our dinner tray and it looks and smells amazing, but there was one small problem. The sandwich was missing. NO! NO! NO! Well, yes. Yes, it happened. I got the ribs last time and no sandwich this time so I chalk it up to breaking even. I say that we even came out ahead.
Let's break it all down starting with the meats. They were served with a slice of bread underneath the meat. Usually, that is a good sign. The brisket was chopped into small pieces; something that is different from other times that I've had it. Each piece was tender and easily chewed. The pulled pork was really good. For some reason, pulled pork is not my first choice because I like ribs and brisket so much, but I was happy with it. Again, the tenderness of the meat and the flavor were tasty.
The ribs! I was so excited to have the ribs again. I take that highly anticipated first bite and something was different. It was good, but not exactly like it was the week before. I think that the meat was a little drier than the week before, but we still enjoyed them. I will say that the previous week's ribs were so good that they were near perfection. Even though they didn't meet that standard I still gladly devoured my portion.
Now, to the sides. MMM! I first tasted the dirty rice. It was good. I liked it, but don't really have anything to compare it to aside from the boxed stuff that I've made at home. It was better than that. I would get it again. The French Fries were a little undercooked, but they were seasoned so well that I couldn't get enough of them. Fries are a big reason why I'm so fatt. I definitely want more of those.
Pay close attention here. GET THE CABBAGE with BACON! I cannot stress that enough. We did not eat one thing that we did not like, but this side blew the doors open. It was a struggle to leave some for my wife and kids to try. It was so good in fact, that I would consider getting 2 sides of it on my next visit. The bacon gave such a flavor boost to the dish and we all know that bacon makes everything better. The salt level was perfect and this was my favorite side no question.
What could have been better? Only a few things of note. I already mentioned the fries, but that was in no way a deal breaker. Another mentioned issue was the missing sandwich. I'm sure that I would have something good to say about it, but since it wasn't in the bag I can't say anything about it. The cabbage and the dirty rice. Nothing wrong with how these sides tasted, but there is an issue with the size. Remember I said that I ordered the family meal? The portions were more of an individual size and wouldn't be sufficient to feed a family. The portion of the fries were plenty generous so there is some disparity between the sizes of what was received.
Oh, and there were 4 chocolate chip cookies. These cookies were pretty bomb. Having a dairy free wife often comes in handy and I got hers' too. I could have easily eaten all 4.
The price was okay overall. The family meal was about $45 which is about an average cost for meals that we've ordered during pandemic season. I would have like a little bit more bang for my buck there, but I would order it again. There were no drinks included there, but there was a drink included with my sandwich meal. Again, the sandwich was missing, but it was fairly priced. Our whole order came to about $60 before tip.
One of the great things about eating at these local spots is the variety. Yes, we had just eaten Porky Butts, but food is an art in the hands of a chef/great cook. There are so many different perspectives and ways to present food that similar concepts can have drastic results from execution to presentation to flavor combinations. It is a fun ride to take! Each has the ability to be good, but in their own way.
I give Wayne's New Skoo BBQ 4 Fatties! It wouldn't take too much to bump this up to a 5. Have you been? If so, what do you think?
Thank you so much for taking the time to read my thoughts on food. You are amazing!
Please Share With Your Friends!
Wayne's New Skoo Bbq
Wayne's New Skoo Bbq
Wayne's New Skoo Bbq
Wayne's New Skoo Bbq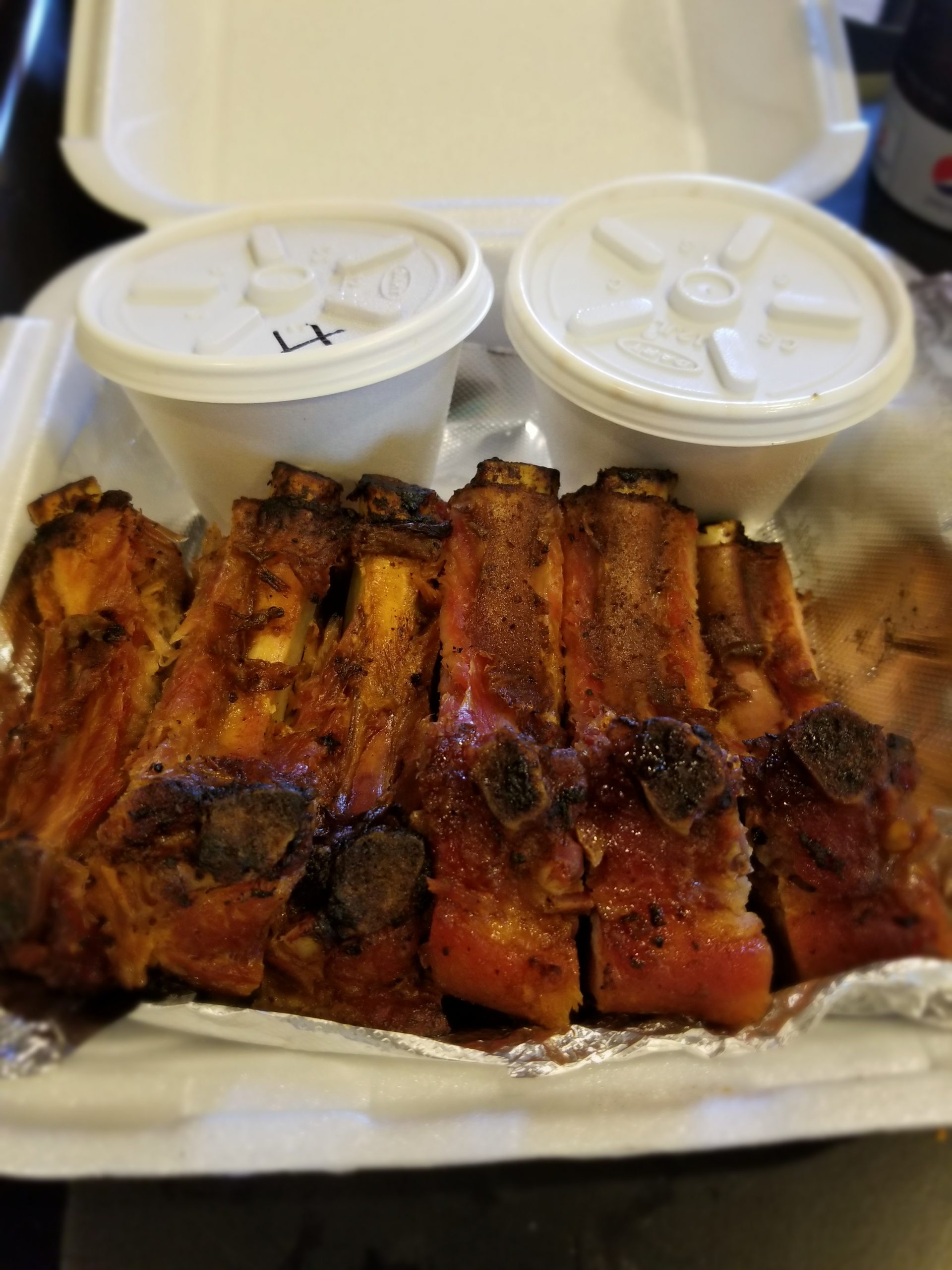 Wayne's New Skoo Bbq
Wayne's New Skoo Bbq
Wayne's New Skoo Bbq
Please Share With Your Friends!