I have been to Chaima multiple times over the last 3 or 4 years. Another one of Omaha's hidden gems located at 5060 S 107th St, Omaha, NE 68127. To be honest, I am not too cultured when it comes to eating new foods and I was a little apprehensive about trying an African restaurant. I didn't know what to expect and I was completely out of my normal comfort zone, but any doubts were quickly dismissed on my initial visit. I had no idea what to try so I asked Chaima, the owner, for suggestions.
Here I am years later and still loving her food. My favorite item on the menu may be the Skewered Beef Kabobs that are cooked in peanut oil. If you are a fan of hear/spice, these things are just so nice! Sorry, I couldn't fight the urge to rhyme. Another item that I like and recently tried were the Chicken Wings. Ooh, they are so good and I would say to give them a try. If you are like I was try to keep an open mind and don't be scared, homey. What you'll find is that a lot of the food is not much different from traditional foods eaten in the good Ole U.S. There are just different flavors from the unique spices and seasonings. Take their Sauté Cabbage mix. Most of us have had cabbage before, but there is a different flavor combination here and that is another favorite of mine. You'll see fish, chicken and beef on the menu.
One item that I had experienced in the past and didn't particularly care for was Plantains. Previously, I had tried them at Gusto's Cuban Café which is no longer open, but the side seemed to be hit or miss for me. However, at Chaima I dig what they do with them and they are tasty. Fufu is another thing that was something that I hadn't tried before. It's a pounded yam that doesn't have any particular strong flavors on it's on, but it is served with your choice of Peanut Stew, Spinach Stew, or Tomato Light Soup. You dip the yam into the perfect stew/soup partner and it is a match made in heaven.
I do love Chaima and I encourage people to give it a try. The food is always good! It can take a while to get your order, but this great family run small business is a great restaurant. One thing that may be a con for some guests is the fact that there is no soda/pop machine. I tend to see this in some of the smaller restaurants and I wanted to mention it because you don't get refills like you might in some spots. Just be prepared for that. Outside of that, the Pineapple Juice is superb!
I give Chaima 4 Fatties! Have you been? If so, what do you think?
Thank you so much for taking the time to read my thoughts on food. You are amazing!
Please Share With Your Friends!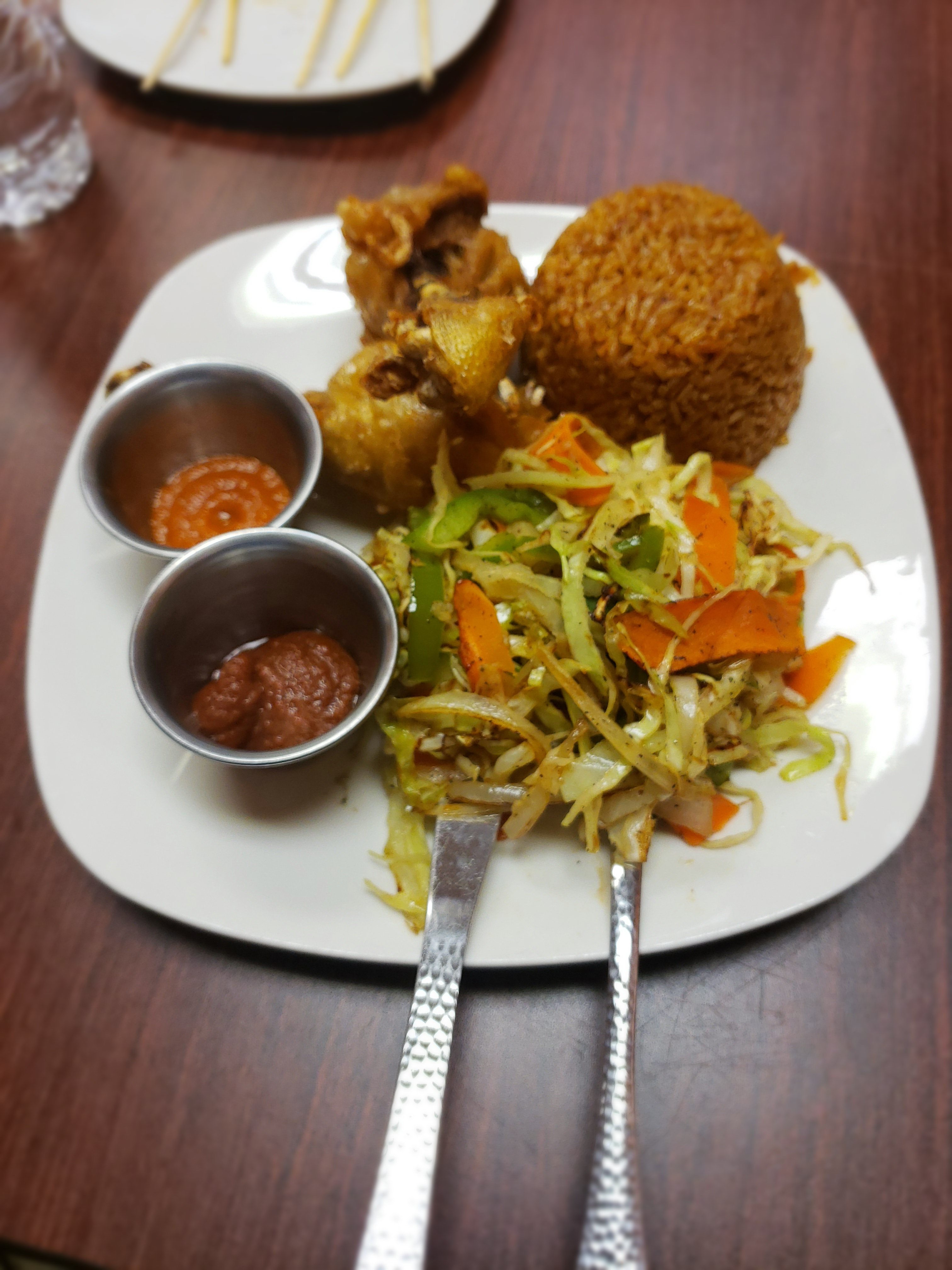 Chaima African Cuisine
Chaima African Cuisine
Chaima African Cuisine
Chaima African Cuisine
Please Share With Your Friends!