We were really pleased with our visit! Now, let me say that this restaurant is owned by a friend's(Kendrick's) family, but that doesn't mean that you should eat there based on that fact. However, I believe the food to be really good.
My daughters, Leonardo, and I met with our friends, the Blues (Martha & Chris), for a relaxed meal. We were a bit late as we had just left the Nebraska Asian Festival downtown and the restaurant was out west. For me, the only con is that my family doesn't live close. I will drive for good food though. ?
Okay, the important stuff. We ordered a side salad, BBQ Wings and a Meat Mania pizza. The salad was really good for some reason. It wasn't because we were really hungry so it must just be that good. Haha. The wings were pretty good as well; no complaints there. I will have to go back and give the buffalo a try.
Now, to the Mania attraction, the pizza. Yes, I said "Mania". The Meat Mania is for meat lovers. It comes with Italian sausage, meatball pepperoni edith bacon on top. This one is sure to please. We ordered the 12″ and the was plenty of food as my youngest only wanted salad and wings. In my mind you can't really go wrong with this combination of meat and they didn't.
After the appetizers I didn't have a ton of vacant space in my belly so I only ate 3 pieces. The pizza comes in squares so that isn't much. I was happy to take the rest for leftovers. Leftovers…sometimes are better than the original. In this case, the 2 days that I ate them made me want more. I ate the remaining pieces cold and oh boy was it tasty. I'm excited to go back and try the Chicago Deep Dish style.
Like a lot of pizza places, Rosati's has more to offer than just pizza alone. They have calzones, sandwiches and pastas as well. While we didn't have a sandwich ourselves, the Blues each had one and they mentioned how good they were. We will be back. While Rosati's is a franchise this particular spot is locally owned. Stop out for good Za and friendly service.
Thanks,
#OmahaFattie
Please Share With Your Friends!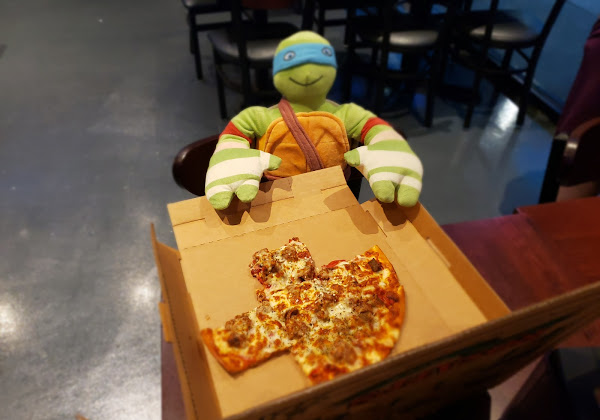 Please Share With Your Friends!