I went to Sinful Burger located at 4005 Twin Creek Drive, Bellevue, NE on a whim! Jim Nearing, the owner, recently contacted me asking if I was ever going to stop out. I hadn't really thought about stopping out to do a review. I did contact them last year to see about bringing the Omaha Area Foodies – Facebook group there last year, but it didn't work out.  I hadn't planned to go, but after a Friday night Jiu-Jitsu class at 10th Planet Omaha the opportunity presented itself. My oldest daughter went to a basketball game and my wife took my youngest out to eat so I was left to fend for myself.
My family had gone some years back a couple of times and I didn't really remember how the food tasted. I do remember that on our first visit I ordered the Gluttony (The most famous sin of all.  Two Sinful burger patties stacked with bacon and more cheese.  Topped with 2 grilled cheese sandwiches as buns.  Total weight is well over a pound.  Cooked medium – Juicy Lucy style, and will have some pink.) I only remember it being too much for me at the time; I had to cut it in half. Full disclosure, the second visit left a bad taste in our mouths because we had a gift certificate from like Restaurant.com or Living Social that wasn't honored because they had at the time recently switched from accepting them. We of course didn't know. I think that was more of the reason that we hadn't returned than the food. Not the establishment's fault.
Fast forward to this visit after class. I waffled back and forth on where to go. Initially, I was going to try to visit Ono Pinay Kitchen, but it was too close to closing time as they shut down at 8pm. Then as if my car had a mind of its own I started heading to my favorite place…Golden Bowl. Something stopped me though. This little voice that said, "Try something different!" Okay, voice. I'm listening. I changed course and began to head to Sinful Burger. Then like the Angel and Devil that appear on your shoulders when contemplating a decision another voice goes, "What about 80's Snack Shack or Beijing Tokyo?" Shhh, voice! I've made my decision. I'm going to be a Sinner for dinner!
I walk in and wait to be seated as the sign says. There was a decent crowd in the spot, but the wait wasn't long. After being seated my waitress, Amy, came over pretty quickly. So far, so good! She took my drink order and when she brought it back asked if I was ready to order, but of course I wasn't. I always need a couple of extra minutes. I'm just trying to decide how much of a Fattie I want to be. After a few additional moments of deliberation I made the decision to go with the Envy (Half pound patty topped with 2 onion rings, bacon, cheddar cheese and bbq sauce.  Taste why other burgers are jealous). Amy asked if I wanted to upgrade my fries, but fries were all I wanted on this day.
After a short wait a pretty huge burger makes its way to the table. I asked for a knife because I didn't think I would be able to chomp down on this meat mountain. To my surprise, I was actually able to conquer the Envy! I took the top bun off to get a glimpse of the burger and it passed the eye test. One thing that I liked about it was the onion rings. They had a dark tint to them, but I don't think they were overcooked. The grill marks were very pronounced and that was a good thing as well.
Once I took a bite my belly was happy! Why? Because it was thick, juicy and the bbq sauce had a nice flavor. If you keep up with Omaha Fattie reviews you may have seen that the fresh veggies on the sandwich go a long way with me. The crunch of the onion rings stood out and the added texture/taste bonus was the fresh onion on top of those. I typically don't like any pink in my meat and I always say, "I don't want any moo in my cow!" As time goes on I'm coming around to the idea of having a little pink as I know when you get into the medium well/well side it can be overcooked. I don't know if it was just because I was hungry after class or if this burger was just that exceptional, but it was good. I texted my wife saying that I couldn't put it down. Trying to go slow and actually experience each bite was a hard task for me. I'd eat it again for sure.
Now, let's talk about the fries. These didn't hit home for me as much as the burger did. They were okay. My preference is a thicker cut fry and these were thinly cut. I think due to the cut they were slightly overcooked. They had a decent crunch, however, there was a dryness to some of them. This is not a deal breaker, but in the future I would probably substitute something else for the fries. Afterwards in a message Jim did want to make sure that I knew that the fries were freshly cut and prepared with no added chemicals. That's always a plus.
I'd say my overall feel of Sinful Burger is positive. Amy was really nice and we recognized each other, but couldn't remember from where. We had a conversation trying to piece it all together and figured that we probably know each other from her days serving at Fort Crook Billiards. She checked on me during my meal and made sure to ask if I wanted any dessert. I don't typically have dessert after meals because I'm stuffed. I will say that the deep fried Oreos sounded good.
The only other thing aside from the fries that I have a negative feeling about is the size of the establishment. Not that it is small, but the proximity of the bar to the regular tables is kinda close. I only noticed this because I was by myself and with no one to have a conversation with my Fattie senses were tingling. Haha. It was a bit of sensory overload with the noise during my visit. Not that it was really loud, but there was music, television, and then a group at the bar having a good time. It was a Friday night and it is understandable. The group was just having a good time and it wasn't like they were being rude or anything. I really feel like an old man after writing this paragraph. Again, if I was engaged in my own conversation I may not have noticed these things. I wouldn't have a problem bringing my family back. As a matter of fact, there was a huge table of kiddos sitting separately from their parents when I arrived.
When looking at the experience of this particular visit I'd say that I would go back. That burger was banging for real! The price was reasonable. For my meal it was only $12.83 after tax and I was decently full so it was worth it. I'm glad that I gave them another chance to do away with my previous feelings about Sinful Burger. This is why it is important to give places a second chance. Especially, when it is a small business. If you have a problem, be honest about it and contact the owner or manager so that they can adequately address it.
I give Sinful Burger 3.5 Fatties! Have you been? If so, what do you think?
Thank you so much for taking the time to read my thoughts on food. You are amazing!
Please Share With Your Friends!
Sinful Burger
Sinful Burger
Sinful Burger
Sinful Burger
Sinful Burger
Sinful Burger
Sinful Burger
Sinful Burger
Sinful Burger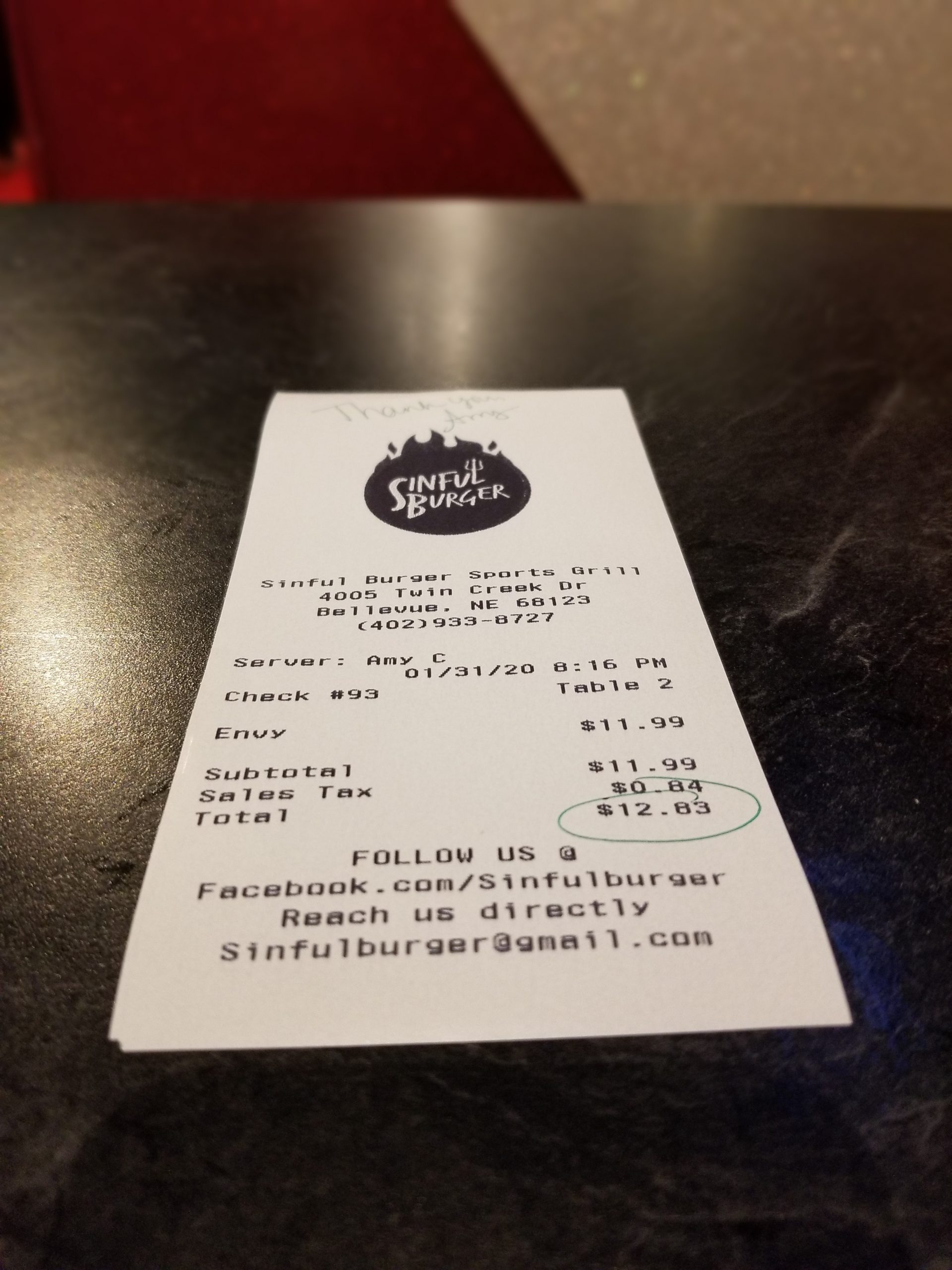 Sinful Burger
Sinful Burger
Please Share With Your Friends!